March 23, 2023 5:33 pm
Leave your thoughts
---
Credit: Lifeloveandgoodfood.com
Juicy, bone-in thighs and a buttery olive sauce are the perfect pairing!
On the table in under an hour, chicken with olives is simple enough for busy weeknights, yet elegant enough to be served at any special dinner party.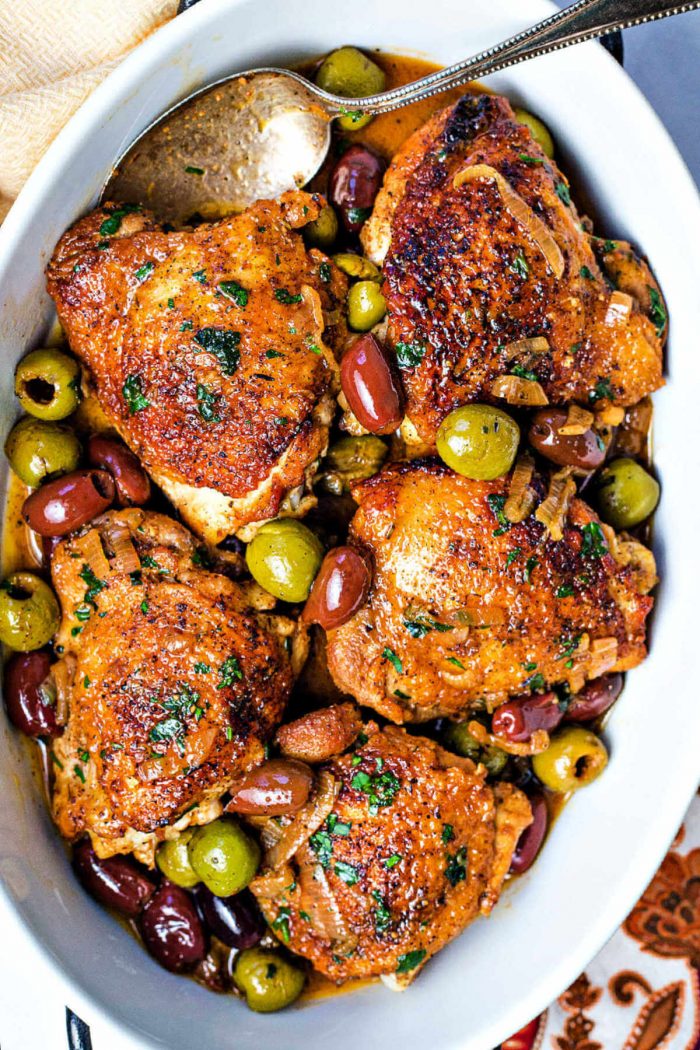 INGREDIENTS
1/2 teaspoon kosher salt
1/4 teaspoon black pepper freshly ground
1/8 teaspoon cayenne pepper
1/2 teaspoon garlic powder
1/2 teaspoon onion powder
1/2 teaspoon smoked paprika
1/4 teaspoon cumin
1/2 teaspoon Italian seasoning
Six 6-oz. chicken thighs bone-in, skin-on
2 tablespoons olive oil
1/4 cup shallots finely diced
1/2 cup Castelvetrano pitted green olives
1/2 cup pitted Kalamata olives
1 cup chicken broth
1 tablespoon lemon zest
1/4 cup freshly squeezed lemon juice
1 tablespoon unsalted butter
1 tablespoon freshly chopped Italian parsley
INSTRUCTIONS
In a small bowl, combine the salt, black pepper, and cayenne. In another small bowl, mix together the garlic powder, onion powder, smoked paprika, cumin, and Italian seasoning.
Pat the chicken dry with paper towels. Evenly sprinkle the salt mixture on the skin side, then turn the chicken over and sprinkle the other side with the garlic powder mixture.
In a large heavy skillet, heat the oil over high heat. Place the chicken in the pan until the skin is golden, about 5 minutes. Reduce heat to medium, flip the chicken over and cook for 2 more minutes.
Remove the chicken to a plate. Add the shallots to the skillet and cook, stirring occasionally until golden, about 2 minutes. Add the Castelvetrano and Kalamata olives and cook 1 minute.
Deglaze the pan with the broth, stirring and scraping the bottom to loosen any browned bits. Add the lemon zest and juice and simmer until slightly reduced, 5 minutes.
Return the chicken to the skillet and cover with lid. Reduce the heat to medium-low and cook until the chicken is cooked through and an instant read thermometer registers 165°F when inserted in the thickest part of the chicken away from the bone, 8 to 10 minutes.
Remove from the heat, add the butter and parsley, stirring until the butter melts and the sauce is creamy.
---
Categorised in: Uncategorized
This post was written by gourmetadmin