June 3, 2022 5:02 pm
Leave your thoughts
---
Olives are a versatile gourmet food. They are used in recipes, breads, salads and even enjoyed all by themselves. Roasted olives go with cheeses, breads, pasta and more. This simple recipe offers something your friends and family will enjoy at your next get together.
Ingredients
Preheat oven to 425 degrees F.
3 cups peppers, variety, diced and sliced (banana peppers, multi-colored peppers)
1/2 cup kalamata olives, pitted (Any pitted olive variety will work, use what you like)
1/2 cup garlic stuffed queen olives
1/4 cup extra virgin olive oil
2 tsp. Italian seasoning
2 tsp. red wine vinegar
1/2 tsp. coarse ground pepper
1/2 tsp. Gochunkang sauce, Korean chili sauce (omit for a milder version of this dish).
Instructions
Put the diced and sliced peppers and olives in a medium mixing bowl.
In a small bowl, whisk together the olive oil, seasoning, pepper, red wine vinegar, and chili sauce. Pour over the peppers and olives and toss and blend coating all well.
Place on a parchment paper-covered cookie or pizza pan sheet. Bake in a preheated 425 oven for about 17 to 20 minutes. Remove and cool.
May be refrigerated once cool.
Credit: Allyskitchen.com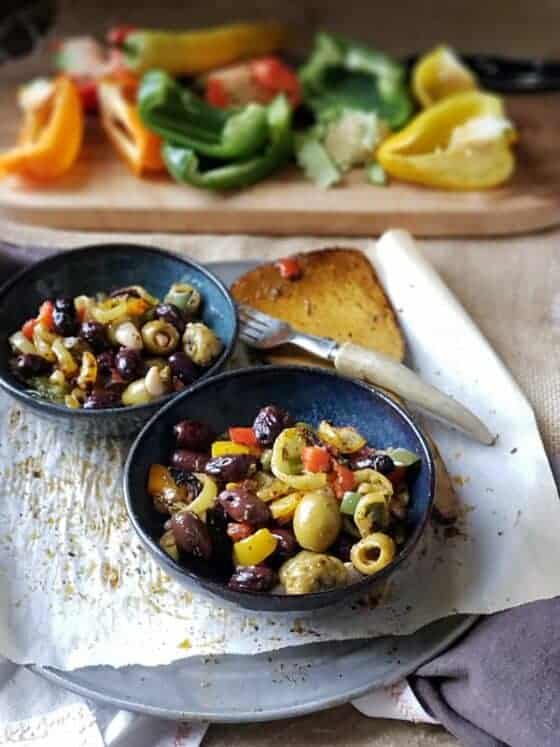 ---
Categorised in: Uncategorized
This post was written by gourmetadmin